New Patients at Chiropractic Center of Vernon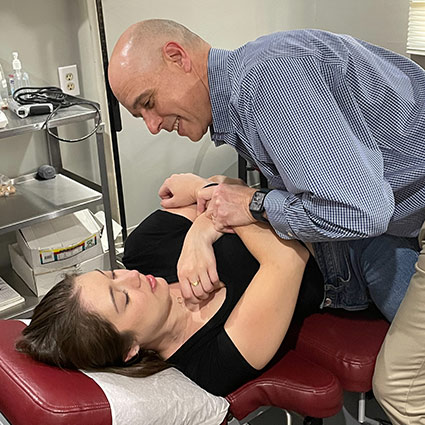 Here at the Chiropractic Center of Vernon, we wish to eliminate every shred of apprehension and make you feel at home.
We've found that one of the best ways to have successful patient relationships is to explain everything in advance. No surprises!
I want you to understand that my goal for you is simple: to get you out of pain as quickly and cost-effectively as possible, and then give you exercises and tips on how to prevent this pain from reoccurring. You will not be required or asked to sign up for any long-term treatment plans or pre-pay for anything. All finances will be fully discussed prior to any examination or treatment. The more you understand who we are, what we do and why we do it, the better the results you'll enjoy.
Before your first visit, you can complete your paperwork online beforehand or our efficient front desk team will have you fill out paperwork if you haven't already once you arrive.
Your First Visit
We will perform a thorough history and examination. We will recommend taking x-rays only if absolutely necessary. Providing we have all the information we need to help you, we will then explain the results of your exam and let you know what is causing your pain. We will answer any questions you may have.
If we feel we can help you and you wish to proceed with care, you will then receive your first chiropractic treatment that same day. If we do not feel we can help you, you will be referred to some who can. You can expect to be here for approximately one hour on the first visit.
Regular Visits
Once we know what is wrong and what we need to do to help you, your subsequent visits take much less time. Your care will be focused to get you out of pain as quickly as possible. Each treatment will consist of a chiropractic adjustment if appropriate, and possible therapies to reduce inflammation and spasm if present. Once tolerated, exercises will be recommended to help support the involved area. A typical appointment generally last no more than 15 minutes. We recognize your time is valuable. We do everything possible to run on time and minimize the impact on your busy life.
Schedule Your Consultation Today
Still not sure? Contact our office and ask for a no-charge consultation. This will allow you to come in, meet Dr. Giacalone, and discuss your issues with him in person. This will allow you to get to know Dr. Giacalone better and to see if chiropractic care, and this office specifically, is the right fit for you.
---
New Patients at Chiropractic Center of Vernon | (860) 871-9021