Meet Dr. David Giacalone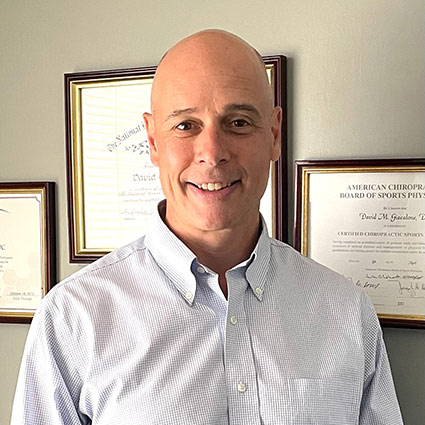 My name is Dr. David Giacalone. Most of my patients just call me Dr. G. I am a chiropractor who truly cares about his patients. My goal is not to keep you coming here forever.
My goal for all of my patients at
Chiropractic Center of Vernon
is to get you out of pain as quickly as possible and give you guidance to keep you that way.
My Path to Chiropractic
I was on my summer break between my sophomore and junior year at college and my headaches were severe. The only stress I had was I was experiencing severe headaches. I remember tweaking my neck lifting weights that summer but my doctor said that it couldn't be causing my headaches. X-rays and an MRI were negative. My family doctor and a neurologist couldn't find anything wrong. "It must be stress," they told me.
Upon returning for my junior year in college, my headaches continued and it was hard to study. Unfortunately, my grades started to suffer. I decide to talk to my adviser and discuss taking the semester off to get rid of "my stress." He told me to go see his chiropractor. It was the best advice I've ever received. Not only did my headaches go away within a month, but because of my experience, I decided to make chiropractic my profession. I often look back on that day as it led me to doing one of the things I enjoy most in this world; helping others get well.
Education and Training
After graduating from Springfield College with a BS degree in Biology in 1988, I decided to go to where it all started, Palmer College of Chiropractic. It was a great decision. I graduated Magna Cum Laude, in 1993 and came out feeling confident in my abilities as a chiropractor.
I went to practice in Groton, CT as an associate for three years where I refined my skills as a chiropractor. In 1996, I decided it was time to go out on my own and opened the Buckland Hills Chiropractic Center in Manchester. In 2003, I moved my office to Vernon where I continue to practice today. I also do my best to keep updated with the most recent trends in the chiropractic field by regularly going to seminars to further my education so that I can provide you with the most appropriate care to help you get out of pain. In 2012, I became a Certified Chiropractic Extremity Practitioner.
Outside the Office
When I'm not in the office I spend most of my time with my wife Susan and our two beautiful girls, Jenni and Danielle. They are the joy of our life. When I'm not in the office or with family, I spend a lot of time exercising. I enjoy cycling, hiking, golfing and about anything to do with the outdoors and I am a two-time Ironman finisher. I hope through my example, I can impart to my patients to take charge of their health and live a happier, healthier and pain-free life.
Get Started Today
Let's get you out of pain! Contact us today. If you're still not sure if chiropractic care is for you, we can schedule a 15-minute consultation, at no charge, where we can discuss your concerns and see if Chiropractic Center of Vernon is the right fit for you.
---
Dr. David Giacalone | (860) 871-9021